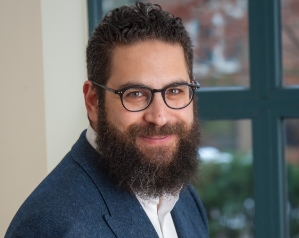 Jacob Goldsmith
Clinical Lecturer
Education
Ph.D. in Clinical Psychology — Miami University
Doctoral internship — The University of Notre Dame
Postdoctoral Clinical Fellowship — The Family Institute at Northwestern University
Selected Publications & Presentations
Dr. Goldsmith has published and presented extensively on topics related to client-therapist relationships, psychotherapy change processes, and empirically-informed therapy. Recent publications include:
Goldsmith, J.Z., Pinsof, W.M, Lebow, J., & Chambers, A. (2016). Relational and Family Diagnosis. In J. C. Norcross, G. R. VandenBos, & D. K. Freedheim (Eds) The Handbook of Clinical Psychology. APA Press.
Pinsof, W. M., Tilden, T., & Goldsmith, J. Z. (2016). Empirically informed couple and family therapy: Past, present and future. In. T.L. Sexton and J. L. Lebow (Eds.). Handbook of Family Therapy: The Science and Practice of Working with Families and Couples (2nd edition), New York: Routledge.
Pinsof, W. M., Zinbarg, R. E., Shimokawa, K., Latta, T. A., Goldsmith, J. Z., Knobloch‐Fedders, L. M., … & Lebow, J. L. (2015). Confirming, Validating, and Norming the Factor Structure of Systemic Therapy Inventory of Change Initial and Intersession. Family process, 54(3), 464-484.
Awards
Outstanding Contribution to Academics at The Family Institute (2018)
Lumity Technology Award Finalist (2013)